Ways To Make An Impact — Without Starting A Nonprofit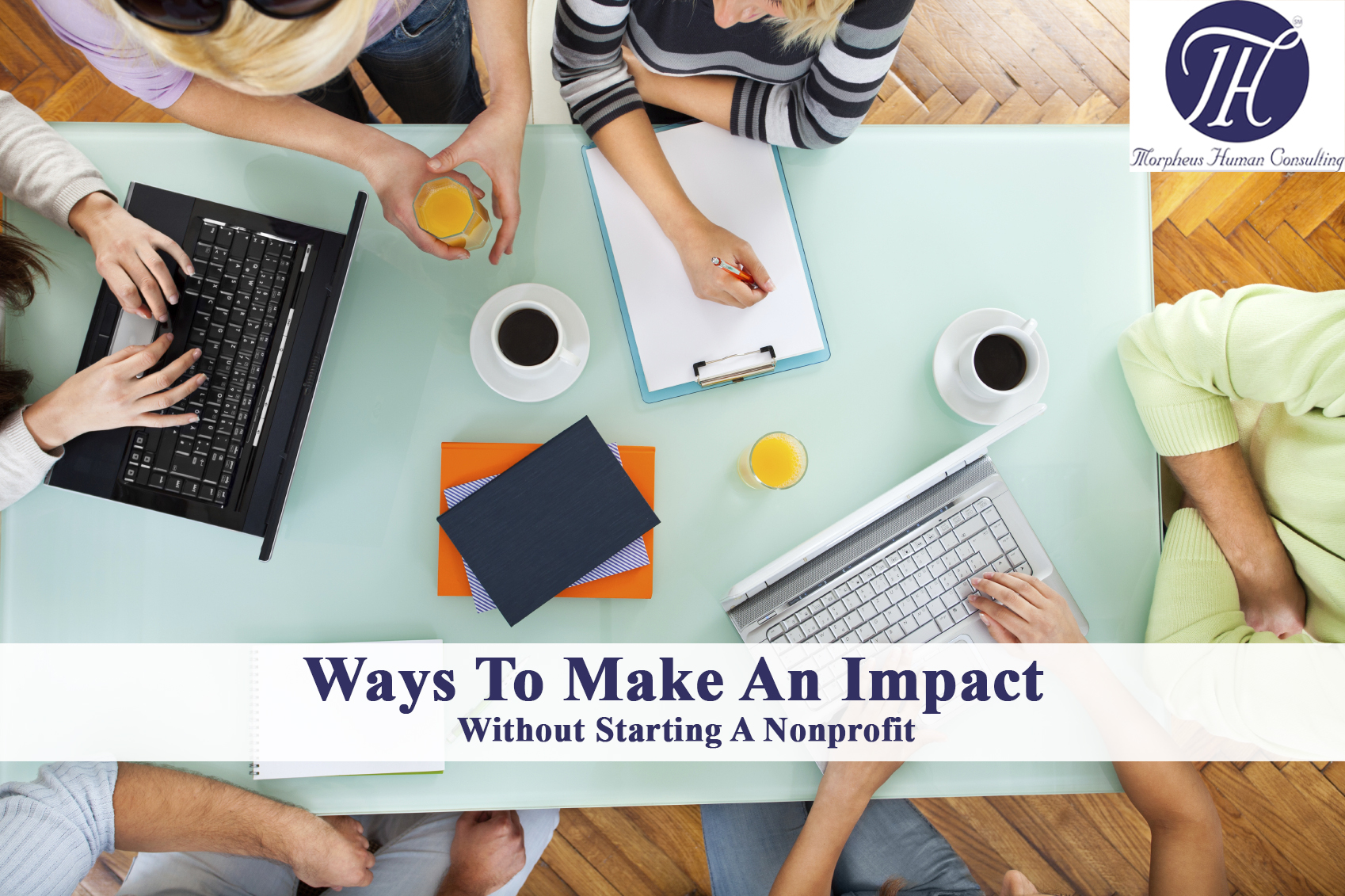 Of the many conversations I've had as a social entrepreneur, talking to eager entrepreneurs-to-be about their dreams of starting a nonprofit is one of the most common. It seems like everyone wants to start something.
And while some people have truly found a niche warranting a new nonprofit or social impact organization, there are other ideas, and even entrepreneurs, who should reconsider. While it can be energizing and exciting to operate a nonprofit, it's also a lot of work, and there are some ideas that can be fulfilled in ways much easier than a formal nonprofit.
According to the National Executive Service Corps, nonprofits might fail for a number of reasons, with financial sustainability as an obvious one. But many nonprofits fail for other reasons, like disengaged board members or lack of strategy and planning.
So, before you jump into a formal nonprofit, consider these three alternatives:
There are great ideas suitable for a project, rather than a formal organization that will exist after your goal has been accomplished. You can get a team together, work with your community or local government officials to make it happen, and can set up a time-constrained initiative to make a difference. And one other benefit? Many nonprofits get started this way, after organically testing the market, testing an idea, and validating the need in your community or region.
So before you start a nonprofit, consider if your idea could be fulfilled through a community project or campaign – or at least evaluate if this is the best place to start.
Partner With An Existing Nonprofit
This one's important. Although you may have an idea that's tangentially different from what another nonprofit is already doing, does your idea truly warrant a completely independent organization? If not, consider partnering with a nonprofit that's already up and running. There might be other reasons for not partnering, like difference in philosophy, so make sure to start with research. Do your homework and find out what organizations already exist and learn about who your hoping to help.
If you find a nonprofit already doing what you hoped to do, contact them to see if you can partner on idea, project or if they would fiscally sponsor your cause under their nonprofit umbrella. Otherwise, consider donating, volunteering your time, or advocating. Just because you're not in charge doesn't mean you can't make a big difference through your time, energy and generosity.
Start A Purpose-Driven Business
With new business structures like the Benefit Corporation (or B Corp), it's possible now more than ever to create a business with a purpose-over-profit mission. Whether you create a product and launch a 1-for-1 strategy or hire individuals in need of a second chance, there are many ways to give back in a for-profit business, and you might even be able to partner with an existing nonprofit through a business you start.
The same rules apply here, however. Make sure you're solving the right problem and that there's a market for your idea. But a for-profit endeavor can be a unique way to support existing nonprofits and avoid the often-cutthroat competition for funding and donor support.
In the age of entrepreneurship when more and more people are joining the ranks as social entrepreneurs, it can sometimes take more courage not to start something new. It can be humbling and sometimes disappointing, but could be better in the end to support existing founders and the organizations they've created – through giving, volunteering, advocating, or even joining the cause as an employee.
And don't get me wrong – there are amazing opportunities in the nonprofit sector. There are unexplored opportunities and underserved communities, so for some people, launching a new nonprofit will make the most sense.
But no matter what decision you make, just make sure your idea is solving an actual problem – and don't start a nonprofit or social impact organization with ego or pride in mind. Instead, consider all of your options and be honest with yourself about where you can truly add value.
Please follow and like us: