Robot Takeover: Is Your Job at Risk of Automation?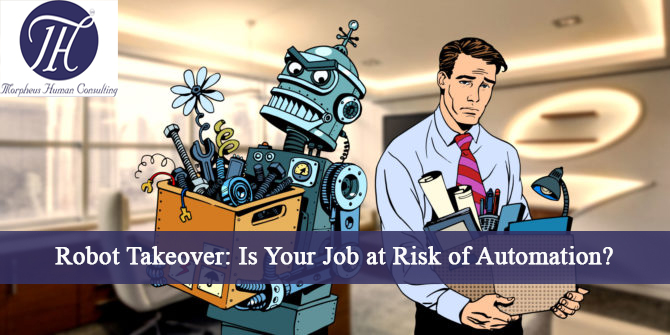 Are you in danger of losing your job to automation? According to a study by the consulting firm McKinsey & Company, nearly one in three U.S. workers will see some of their tasks or entire jobs taken over by robots and other artificial intelligence by 2030.
Employers are expected to rely increasingly on computers to do jobs that humans currently do. This is because computers are generally less expensive than human employees. They can also help reduce human error, and even perform work beyond human abilities.
What does this mean for you and the future of your job? How can you prepare for the rise of robots in the workplace? Make sure you know what jobs and skills are likely to be taken over by automated workers, and expand your skill set so you can perform tasks that robots cannot.
Which Jobs Will Robots Take Over?
Rest assured that many jobs will continue to exist even as tasks become more automated. In fact, McKinsey finds that less than 5 percent of jobs are likely to be entirely taken over by robotics and other computers.
Instead, computers will take over particular tasks that are easier (or more cost-effective) for them to complete rather than humans. These include predictable or repetitive work, physical tasks, machine operation, and data processing and collecting.
1. Construction
The good news is that construction jobs are growing due to today's increased demand for new buildings, improved roadways, and other infrastructure development. However, some construction tasks are ideal for robots to take over. These include any predictable physical labor, such as construction equipment operation and basic installation and repair of materials.
Jobs and tasks that require more expertise, including complex installations and repairs, and construction site management, will likely not be replaced by robots any time soon.
2. Food Service
The food service industry is already seeing a rise in automation. This is particularly the case in fast-food restaurants, which typically focus on speed and efficiency. Computers can help customers place orders and make payments. They can also perform basic repetitive tasks in the back of the house, including dish washing and even some food prep.
However, people will continue to fill food service
jobs
that involve creativity and skill (like chefs and cooks, particularly at fine dining restaurants), and human interaction (like waiters at restaurants that emphasize customer service). And
jobs
in management, such as restaurant manager, will need to be filled by people with strong supervisory skills.
3. Manufacturing
Many
jobs
in manufacturing (including assembler, fabricator, machinist, and more) involve completing repetitive, predictable tasks. Many of these
jobs
are already being replaced by machines, or are at least seeing some tasks being handed over to computers.
4. Office Administration
People who work in administrative and office support perform a number of duties that could be taken over by computers and in some cases, they already are. Tasks like booking appointments, answering straightforward phone calls, entering data, and more are the types of predictable tasks computers can do, or might soon be able to do. Administrative
jobs
range from secretaries to paralegals to office managers.
5. Retail
Many big-box retail chains have already automated a number of tasks. For example, many stores now have automated checkout services for customers, eliminating the need to have humans check out customers and bag their items.
Robots and other computers could also soon be used for basic tasks like stocking shelves and checking inventory. Of course, stores that emphasize customer service will still
hire
human salespeople to interact with
clients.
Beyond these industries, there are a number of other
jobs
that are likely to be increasingly replaced by computers, including card dealers, toll booth operators, radiologists, movers, and more.
Which Jobs Are Safe?
How to Prepare for Automation
1. Pick up new skills.
Take the time to develop skills that robots cannot perform. Develop your problem-solving ability, your management skills, your creativity, and your emotional intelligence. If you can highlight these skills, you will make yourself an invaluable member of any team (and an employee that cannot easily be replaced by a computer).
2. Go back to school. 
Also prepare to eventually have to work alongside more computers and robots than you do now. Employers will be impressed if you can adapt to this changing workforce with ease and with an open mind.
5. Don't worry.
Please follow and like us: