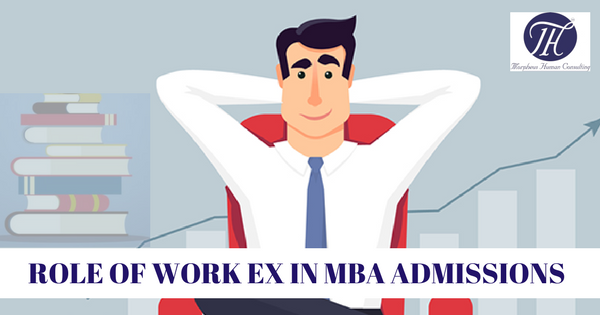 Here is my article on the role of work experience in getting a student into a good MBA College.
Few common questions have been answered in this article.
Hope you find it useful.
So, is it advantageous to have work experience prior to commencing on the MBA journey? The question is straightforward but the answer is not. Duration, job role, industry/sector of work all contribute to the experience becoming an asset or a liability.
1.First things first- why MBA?
 Although the question might seem redundant, it is essential to understand the perspective of those already  having  jobs. Quitting a job and pursuing MBA would have the following cost implications:
The existing flow of income would stop. Most flagship MBA courses in India are 2 years long. This would mean a gap of 2 years between the last and next pay cheques.
A significant investment in course fees and living expenses. Many MBA students apply for educational loans, thereby creating financial obligations for the future.
2.What is the significance of the work experience in the MBA process?
MBA entrance exams: It is tougher to prepare for MBA entrance exams in parallel with your job . Work means a break from academics coupled with a restricted amount of time for preparations. Consequently, those having jobs have to exhibit greater tenacity and focus to gear themselves for entrance tests.
Selection into top colleges: This is one aspect where having work experience generally favours the applicant. IIM Bangalore, for example, has a 5% weightage for experience. Therefore, a person with experience can get through with a score lower than a fresher's.
The actual MBA coursework and campus life: Work experience obviously endows one with specialized domain knowledge. This practical perspective is useful in both theory-based coursework as well as projects based on market scenarios. Further, campus life provides a tremendous opportunity for personal growth. Those who have gone through the churn of corporate life appreciate this aspect better.
The MBA jobs: Companies treat 0-18 months of work experience as a single category. Companies offer similar job profiles to these students. It is relevant to discuss the concept of 'lateral placements' here.
3.How Important is My College GPA After few Years of Work Experience?
With 3-5 years of work experience, you can present essay content that demonstrates the deepening and broadening of your professional skills and experiences, reinforcing the idea that you have matured into a highly effective and impactful young professional and that you are no longer defined by your undergraduate performance. Ideally, your GMAT score should be strong, which will also reinforce these ideas.
Strive to secure recommendation letters that emphasize this same message. Some candidates take business courses after college at a reputable institution, building an "alternative transcript" that provides evidence of their current abilities.
4.What do the Admissions Committees look for in a candidate's Work Experience?
          3 Aspects Admissions Committees Look For In Work Experience
Think about the amount of time a B-school has in hand to judge your application… just 1 or at the most 2 hours to know who you are and what your potential is. In such a situation, your work experience comes to their rescue. AdComs turn to your work experience to quickly know what you have been doing over a period of time and what domain expertise you bring to the table.
Pedigree of the company you worked with:
Are you working with Google or Microsoft? If yes, great! If not, no problem. This is because Admissions committees do understand that not everyone gets into a Google or a Microsoft. Yes, though it's true that a big brand does leverage your chances of getting into your dream B-school, the good news is that even if you are working for a start-up, your application will not be rejected solely on this basis.
However, if you are working for a small brand, you should be able to quantify your performance, roles and responsibilities and precisely what value addition you brought to your employer.
How well did you perform at work?
There is something even more important than the brand name of the company you work with and the number of years of experience you have.Now, is there any standard or norm to appraise this? Your performance is directly related to the number of promotions you got.
If you are able to show a couple of jumps, this adds a lot of weight to your application.
Roles and Responsibilities:
You may be a great software engineer, doing a great job assigned to you.
However,Was your job restricted only to IT coding?
Or were you also involved in the cross-functional and cross-cultural roles?
For instance,
Did you work in other functions also such as pre-sales, functional consultancy etc?
Have you worked, studied or traveled abroad?
Even if you have not worked abroad, have you undertaken any such project where you had to deal with foreign parties?
Are you a person who can appreciate and work with people from other cultures?
Remember, this holds true for professionals belonging to other industries also, not just IT. It is very crucial that you provide precise quantifiable information that will demonstrate your initiative to take more challenges and responsibilities and show your excellence in these.
REAL QUESTION : SO DOES WORK EX REALLY MATTER?
The straightforward answer is YES. Let me explain it to you with a real life example.
The whole idea of MBA is developing your Management and leadership skills and use them in real (mostly but not only business) world. Therefore you are supposed to study many business courses like Finance, Marketing, Economics etc in  a B School.
Now consider two individuals. One is fresher and the other one has a work ex of let's say 5 years. The fresher let's assume (and he will be) brilliant in academics and hence will grasp the concepts easily. However what do you actually mean by those concepts, how do they affect in day to day lives, that understanding cannot come without work experience.
For example – you want to become captain of a hockey team, first of all you need to play hockey and then only you can become a captain. Similarly if one becomes a Manager without work ex, he or she will be like a hockey captain who has been to a nice bschool but hasn't played hockey ever.
THANK YOU FOR READING
BY MR. KAILASH SHAHANI
Please follow and like us: