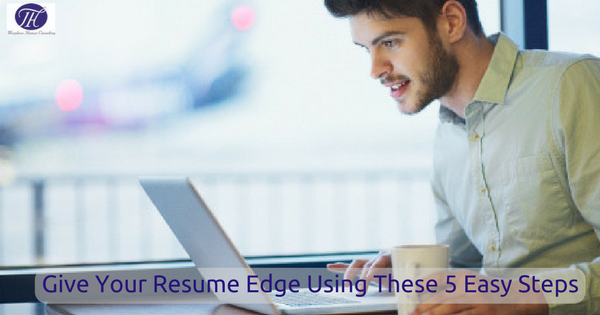 Each week, thousands of resumes cross the desks of the busiest recruiters.
In a matter of 6 seconds or less, a recruiter will decide if you, as a candidate, is worth another look or if your resume will end up in the 'G-file'.
This can be the most challenging for some professionals — especially for those who are accustomed to succeeding.
Here are five easy wayy for a resume edge: 
Edge #1 :
– Save your resume in a simple and 100% scan able format.
If you choose one thing to give your resume edge, make sure you save your resume as an applicant tracking system-friendly (ATS) format. Editorial Note: Here's part 1 of our jobseeker's guide to applicant tracking (ATS) systems to ensure your resume is ATS compliant.
Do NOT save your resume as a PDF because most systems cannot scan this type of resume and our information will not appear to the hiring manager on the other end. Use a simple Word format, left-aligned, and with all the pertinent section headings. Need a quick review of what these should be? Review the ATS to see what information is being required before you submit the resume.
Edge #2 :
– Always include a strong cover letter.
Experts do speculate that when candidates include a brief, well-written cover letter with their resumes, the resume gets read approx. 20% more frequently. The good news is that you don't have to write like Shakespeare to send in an outstanding cover letter. You really have two choices here.
First, you can try to go it yourself and include a brief, but powerful, resume introduction. OR, you can hire an executive-level resume writer to draft a professional cover letter that grabs the hiring manager's attention. You are a pro, so go with a resume writer to help you stand out!
Edge #3 :
 – Boost your font size and increase white space.  
By the end of each day, after reading through dozens of resumes, a recruiter can easily go cross-eyed.
Choose a resume format that is simple and includes plenty of white space to pull this off well. Then increase the font size for things you want to stand out, such as your name, your top skills, and your job titles. This will often get noticed by recruiters who will appreciate the fact you are saving their sore eyes.
Edge #4 :
 – Use a digital interactive resume.
A resume is absolutely necessary at this stage in your career. But, if you have the option of including a link to your portfolio or another online resource that further demonstrates your credentials, by all means, use this to your advantage.
Create an edgy resume that's digital and interactive. This can be easily done by using WordPress or another website building platform, then uploading a brief, but powerful video introduction, links to your career history and education, samples of your best work, and testimonials from past employers. Here are some really cool examples of creative digital resumes and websites from The Muse to give you some ideas.
Edge #5 :
 – Connect with your LinkedIn profile brand.
This is where a lot of professionals get stumped, so I want to clarify a few things here. A LinkedIn profile is NOT another version of your resume. It's not a place to list a bunch of jobs you've had or add random people to your list of contacts. Instead, you can use this platform to stand out as the thought-leader, using strong content strategies for writing a killer Linked profile – and resume too!
First, the headshot. Make your photo as attractive and professional looking as possible – do this right and you will attract many people to you!
Secondly, your title and description need to be edgy and attention-grabbing. Make it known what you do and why you are the best.
Third, get connected with the right people who are influencers in your industry and the business world. Think of people you love to follow on other publications and those who have something worth listening too.
SOURCE: http://bit.ly/2nPnzjy
Please follow and like us: