Recruitment Definition:
Searching the right candidate for the company is the job of the recruiter and the process that the recruiters have to follow for the selection is called recruitment. In other words, Recruiters helps to provide the suitable manpower as per the requirements to the company.
Step by step recruitment process to be followed and its significance:
According to Kailash Shahani – Director of Morpheus Human Consulting Pvt Ltd.  Recruiters have to follow the selection process before hiring the person so that there is right candidate selection for the right job from the pool of the job seekers. Recruiters can go through the following process for the assortment of right candidate:
Go through the job applications carefully
After the verification of job applications prepare a test paper for the shortlisted candidates.
Shortlisted candidates from the written test process should then be eligible for face to face interview with the technical team.
After the technical round the selected candidates are eligible for HR round.
HR round is the final candidate selection process round
Social media can also help in the selection of right candidate
Kailash Shahani recommends that after going through all the above processes step by step HR team should then continue with the following steps with the final round selected candidate(s).
Background and reference check of the selected candidate.
Educational certificate verification should also be done.
Educational certificate photocopies of selected candidates should also be kept for review process
Health check-up of selected candidates should also be in the process to avoid all kinds of future problems.
After all the formalities provide the offer letter to the candidate
Flowchart for Recruitment process: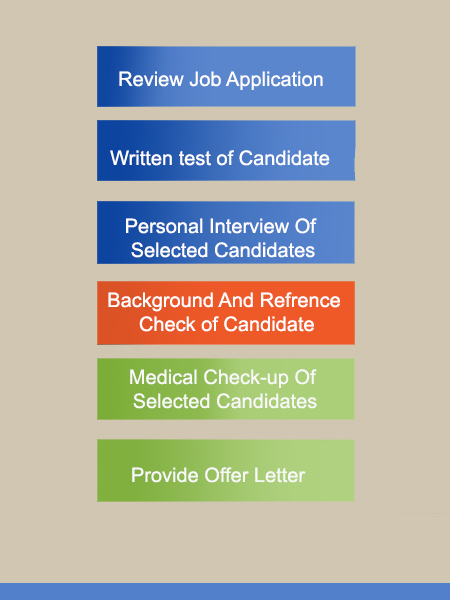 Kailash Shahani states that the need of recruitment depends upon certain factors which are discussed  below:
Planned: There is a need of recruitment when there is change in the company as well as retirement  policy
Anticipated: This type of recruitment takes place when the company predicts the need of employees  by visualizing the internal and external environment.
Unexpected: This is a need of recruitment due to sudden facts like  Deaths, illness, resignation, accidents.