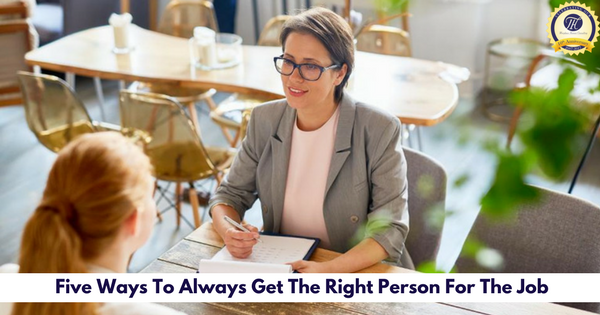 For small, growing startups, each new hire is critical. Get the wrong person for a key role and suddenly your fast track to success becomes a time-sucking pit stop.
Today, we employ more than 100 people and we have an above average success rate with new hires. I'm involved each time we bring in a new hinter and have learned these five lessons for consistently finding the right person for the job.
1.   Hire your weakness.
As a founder, you get used to doing most things yourself. But it's important to recognize where your skill set falls short. Finding people to fill these gaps helps you focus on what you do best. The classic example is Mark Zuckerberg hiring Sheryl Sandberg to run the business side of Facebook so he could remain focused on all things tech.
Hiring my weakness is something I've done consistently. Even though I had grown AOL's direct-to-consumer (DTC) operation into a billion-dollar business, I also knew that the analytics side of DTC marketing wasn't one of my strengths. So, I hired a performance marketer who is an expert in all things analytics and now a huge chunk of our sales are DTC.
2.   Use your network.
It's easy to become completely consumed by the process of building a business. But it's critical for leaders to spend time away from the office, meeting new people both inside and outside your own industry.
My network is a trusted source of advice and perspective, as well as a valuable rolodex of quality candidates when it's recruiting time. According to Jobvite, referrals have the highest conversion rates, shortest recruitment process and stay with the company longer. Whenever you have a new opening, let your network know.
3.   Potential is better than experience.
Though our core products are categorized as beverages, I don't always look for beverage industry experience when I'm reviewing resumes. We're about healthy living, not creating a craving for sugar-filled fizzy drinks. Having worked at Coca-Cola doesn't make a person right for us.
Instead I want to see evidence that people have been involved in growing a business, especially in the lifestyle space. It doesn't have to have been a success. A person who can identify why something went wrong and learn from it is equally as interesting as someone who hits home runs all the time.
4.   Explore their goals.  
The standard interview question "where do you see yourself in five years?" is designed to show a candidate's level of ambition. But it's often a waste of time. People just name a job title that suggests enough progress up the corporate ladder without ever revealing anything about who they are.
I'm more interested in understanding what a candidate wants to do with their life. Do they ultimately want to be known as someone who followed a passion and shook up the status quo? That would show me that they have the curiosity, drive, and enthusiasm required for a fast-growing business in a competitive space.
5.   Good cultural fit.
My driving force behind starting my company was a desire to lead a healthier lifestyle. I would say that every hint employee is physically active and conscious about what they eat and drink. Not only that, they are passionate about helping others remove sugar and sweeteners from their drinks.
We've hired so many people who came to us simply because they loved our products and what they represent and wanted to be a part of it. Whatever your business, potential new hires should have some emotional connection to what you do. Otherwise you're just providing a paycheck.
On that Monday morning when I'm introducing a new hire to the company, I want to be confident it's going to work out. These five tips have served me well and following them will help you find the right person for the job.
Source: http://bit.ly/2iQm4zZ
Please follow and like us: