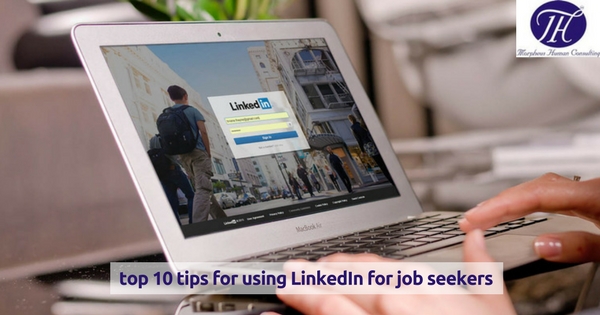 LinkedIn is the top site for professional networking. It's a terrific site for job searching as well. Are you using LinkedIn effectively?
Here are the top 10 tips for using LinkedIn for job seekers :-
1)  Sign Up and Login to LinkedIn
New to LinkedIn? Where to start and what to focus on can be confusing when you're new to LinkedIn. Here are tips on how to get started using LinkedIn for career networkingand job hunting.
2) LinkedIn Profile Tips
One of the most important parts of LinkedIn is your profile. It's what you use to connect with people in your network and your profile is how you get found on LinkedIn.
3) Use Your LinkedIn Profile as a Resume
Your LinkedIn profile is an online version of your resume. It should have the same information that is on your resume and, if you're looking for a new job, you will want prospective employers to be able to review your credentials for employment, including your qualifications, your experience, and your skills.
4) Apply for a Job on LinkedIn
LinkedIn is an excellent source of job listings. You can search and apply for jobs directly on LinkedIn. In addition, you will be able to view and contact your LinkedIn connections at the company who may be able to refer you for the job.
5) Send LinkedIn Invitations and Messages 
There are right ways and wrong ways to connect on LinkedIn. Paying attention to proper LinkedIn etiquette is a must if you want to get connected.
6) Get LinkedIn Recommendations
Recommendations matter on LinkedIn. A good recommendation is providing a prospective employer with a reference in advance.  Get LinkedIn recommendations,  ask for references, and  manage the recommendations you have received.
7) Use LinkedIn Endorsements
Endorsements will help you get your profile noticed. Information on LinkedIn endorsements, including what they are, how to get them and how to turn them off, so they don't show on your profile.
8) Turn off LinkedIn Activity Broadcasts
When you're job searching and don't want your employer to know that you're updating your LinkedIn profile, it's a good idea to turn off your activity broadcasts.
9)Should You Pay for LinkedIn Premium Services?
Is a LinkedIn premium account worth the investment? The answer is that it depends on both your financial resources and the strategies you are using to job search.
10)Join the About Job Search LinkedIn Group
Get career and job searching advice, including job search advice, online networking and social media strategies, and professional branding and career resources.
SOURCE: http://bit.ly/2lj4aBT
Please follow and like us: